The Rendezvous returns…to Austin, Tx during South by Southwest Week.
The Rendezvous is one of NYC's long running popular events that features live performances from independent artists. Over the years The Rendezvous has featured top independent artists such as Marlon Saunders, Alison Crockett, Dexter Myers, (Grammy nominated artist mentioned as a favorite artist of First Lady Michelle Obama & President Obama) Anthony David, British Soul Icon Omar, Davina, Big Brooklyn Red, Rhonda Thomas, Chinah Blac, Brown Baby Girl, Abby Dobson, Wes Felton, The KiKi Experience, Mike Hammond, Myoshi, Grammy Award nominees Wayna, Maiysha & Yahzarah aka Purple St. James, Grammy Award Winner Maya Azucena & Kimberly Nichole (featured on Season 8 of the NBC hit TV Series "The Voice") among many many others.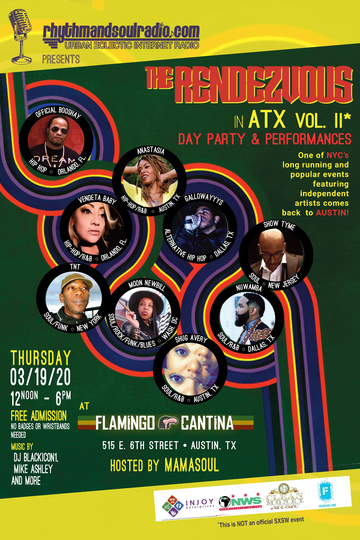 The Rendezvous will return to Austin, Tx. during SXSW  on Thursday, March 19th at Flamingo Cantina, right on 6th Street in the center of all the action, from Noon – 6PM. It's going to be an event unlike any other during SXSW week. It will be part day party, part concert with live performances from national and international independent artists from New York, New Jersey, Washington, DC, Orlando Fl., Dallas, Tx and Austin, Tx including:
Nuwamba (Dallas, Tx) –  This excellent artist and individual loves to write about love, life, and positivity that he executes into the most soul-feeding music genre Soul and R&B while also dropping in some Hip-Hop and Afrobeat.
Official Booshay (Orlando, Fl) – A versatile hip hop artist who raps to any style of music. Official Booshay is best known for his thought provoking lyrical content and style that engages diverse audiences worldwide.
Anastasia (Austin,Tx) – With a catalog of five well-received projects, multiple "Best Female Artist" nods from the Austin Hip Hop Awards, recognition from respected media, and dynamic performances Anastasia has worked to design and define her own niche within contemporary music. 
Show Tyme (New Jersey) – A triple threat artist, singer, songwriter, and producer Show Tyme  is the epitome of soul expression. He's worked with some of the music industry's elite artists as he begins to take his place among them. 
Vendeta Baby (Orlando, Fl) – A Creative Edgy artist that pushes the boundaries of modern hip hop, soca, and pop, with unparalleled delivery and an attitude that means business.
TNT (New York) – The sound of TNT is an eclectic blend of soul, funk, rock, jazz, house, hip hop and gospel. There are no gimmicks, it's simply good music.
Moon Newbill (Washington, DC) – Singer/Songwriter/Stage wrecker Moon Newbill is a dynamo on the performance stage who extends her inner passions with gritty no holds barred energy. She has been called "your favorite singers favorite singer."
Gallowayyys (Dallas, Tx) – Alternative hip hop artist Gallowayyys carries an energy unique to his youniverse. His vision of the tomorrow has led him to a life of progressive political activism & intense studies into consciousness as a science and he provides a different voice in hip hop.
Shug Avery (Austin, Tx) – Singer/Songwriter/Actress Shug Avery is an all around entertainer whose personality and voice fills any room.
DJ Sets throughout the day will feature music from RhythmAndSoulRadio.com's DJ BlackIcon1, Mike Ashley, DJ Funknatra and special guests. Plus a live broadcast by Urban Eclectic Internet Radio Station RhythmAndSoulRadio.com hosted by "The Architect" Marko Nobles! The Rendezvous is hosted by MamaSoul!
Free Admission all day (no badges or wristbands needed). Just RSVP here.