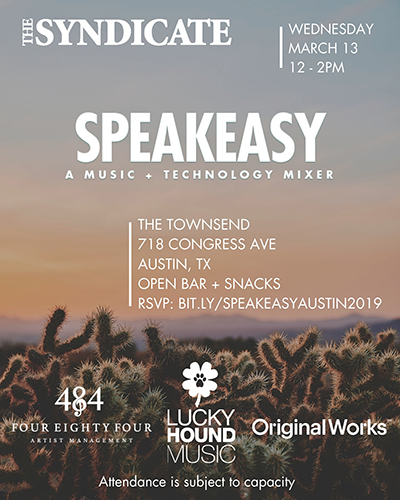 Join this year's Austin edition of the Speakeasy: Music + Tech Mixer with The Syndicate and special guests Lucky Hound Music/484 Management + Original Works.

Drinks and snacks with some of the most awesome folks in the music + music tech industries.
_____________________________________________________
SPEAKEASY: MUSIC + TECH MIXER (IN AUSTIN)
WED MAR 13 | 12-2 PM
Open Bar + Snacks
THE SYNDICATE
Founded in 1998, The Syndicate is a boutique entertainment marketing agency that specializes in music, comedy, and pop culture – services include marketing, radio and publicity.  In 2018, The Syn acquired Sneak Attack Media and now proudly presents the Speakeasy: Music + Tech Mixer.

LUCKY HOUND MUSIC
An open-genre record label housed on the Studios at Fischer campus, a state-of-the-art creative destination that believes in building artists from the ground up as partners in their success.
484 ARTIST MANAGEMENT
Providing longevity to developing artists through authenticity and industry support, with access to the world-class resources of the Studios at Fischer campus.
ORIGINAL WORKS
Original Works is a new financial protocol for copyrights, designed to help music makers easily manage their work and get their streaming royalties paid faster directly to a digital wallet. Visit https://original.works and sign up to get early access to the beta.
_____________________________________________________
Follow the Speakeasy on Facebook for more updates:
http://www.facebook.com/speakeasymusictech  
RSVP will sign you up for info on upcoming Speakeasy events
_____________________________________________________